PTSA
Announcements
PTSA Board, PTSA General Meetings & Events
The WMS PTSA meets every 2nd Tuesday of the month at 7 p.m.
October 6   In-Person Curriculum Night at 6 p.m., Learn about PTSA.
October 11  WMS PTSA Board Meeting, 7 – 9 p.m. (Virtual)
October 15-17 Washington State PTA Legislative Assembly
November 8  WMS PTSA Board Meeting, 7 – 9 p.m.
If you would like more information and links to the virtual meetings, please contact our PTSA President, Erika Goodmanson, at whitmanptsapresident@gmail.com
Stay Informed and Get Involved
Get connected and stay informed of school events and activities is to sign up and read the Whitman Weekly PTSA Newsletter! If you have any questions or have news to share please email the PTSA Newsletter Volunteer Jan at whitmanptsanews@gmail.com
You don't have to be a PTSA membership to sign up, so sign-up today and get your email added to the Whitman weekly newsletter mailing list.
---
Join the PTSA and Become a Member and/or Volunteer!
Volunteer Opportunities
We are always looking for new volunteers too. You can find volunteer opportunities on our Volunteer and Current Volunteer Opportunities pages.
---
Welcome Event
The Welcome Event for Incoming Grade 6 and New Students was so much fun! We met new families and some familiar faces and hope that you all felt at home at Whitman. We really appreciated your enthusiasm! We especially want to recognize the following staff members and teachers who helped plan and/or attended this event even after a long, long day of training: John Houston, Principal, Janice Runner, Front Office, Elaine Way, Front Office, Melanie Gunn, Music and Orchestra Teacher, Beth Hardy, English Language Arts Gr 6 & 8, William Harris, Mathematics Gr 6 & 7, Keith Welch, Student Teacher, and Leticia Bravo, Counselor.
Big thanks to our PTSA Events Coordinator Christina Bailey and our PTSA President Erika Goodmanson for the planning and execution of the event.
Thank you to those who volunteered for set up/clean up and participated in this event!! These people were willing to jump in where needed and get things done: Katherine Diers, Nichole Barba, Tracy Yetter, Karin LaBelle, Tonia Galindo, Melissa Fuller, Zanna Satterwhite, Jan Johnson, Alisa Yamamoto, and Kelly Germann (Performing Arts of Whitman Director). Finally, the janitorial staff who were already cleaning up were so helpful to our volunteers! We hope you grabbed a cupcake and a soft drink! We appreciate you all!
---
Whitman Middle School PTSA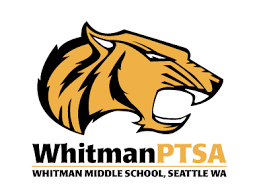 Welcome to Whitman from the Parent Teacher Student Association (PTSA)! Our PTSA is a 501(c)(3) organization that supports Whitman's students, families, and staff. We are here to make sure you have the opportunity to stay connected to your student's middle school experience.
Many research studies have shown that when parents/guardians are involved in their child's education, these students achieve more regardless of socio-economic status/ethnic background or even their own parent's education level.
---
Annual Giving Campaign (AGC)
A huge Thank You to our Wildcat community for supporting the 21-22 Annual Giving Campaign in a big way! Look for more information for your support for the 22-23 school year.
---
The Equity PTSA Committee
Three Projects for the School Year 21-22
In collaboration with school administration, the Equity PTSA Committee has identified three projects for the 2021-22 school year. For each committee, we need volunteers to act as committee members as well as committee chairs. The Chair position will lead the committee. This involves coordinating the meetings, leading the planning, and overseeing the committee work. Committee members will support the Chair in achieving the goals of the committee. These committees are very important to our overall goal to reach more families and bring them into the Whitman community.
To join a committee as a member or as a chair, please email our PTSA President at: WhitmanPTSAPresident@gmail.com
Tech Drop-in Committee
What: Plan a 1 or 2 day weekend event where parents and caregivers are invited to come in-person to Whitman and get tech support from other parents, caregivers, and school staff (including qualified and trained interpreters). Support will be offered to get onto the Source, Schoology, and learn how to use these resources to monitor their kids' grades or connect with teachers.
Planning Needs: The committee will propose the dates, plan staffing with qualified and trained interpreters, and work with the school to achieve the goals. This will likely occur in January 2022.
Committee Needs: One or two Chairs needed as well as Committee Members.
Peer Parent Program Committee
What: The Peer Program matches parents and caregivers with their peers to navigate the public school system. This committee will start with a few well identified processes, such as 504 plans or selecting a choice school. This committee will then match established families who have been through the process with parents and caregivers who are new to the process and want assistance or have questions.
Planning Needs: We need a committee to drive this, evaluate if/how we can execute it, how it would get rolled out, and what is needed to support partners. People signing up as partners need to know what is expected of them and how to set boundaries for appropriate interactions. If the committee determines any significant barriers or concerns, they need to be ready to make a determination to cease the program and recommend to the school we don't do this at this time.
Committee Needs: One or two Chairs needed as well as Committee Members.
Name Change Committee
What: Changing the name of the school is something students and the community have expressed interest in this year and in previous years. Our next steps are to reach out to the district and get the conversation started.
Planning Needs: The committee will need to work closely with the school and the district throughout the name change process. The committee will need to gather support and demonstrate a serious interest among the community to change the name. There are various ways this can be done. The committee may consider creating a petition to show broad support for the name change.
Committee Needs: Committee Members are needed. Chairs: Lesley Baker and Tonia Murell
Video from June 2022 General Membership Meeting
Watch the video from the General Meeting and meet Principal Houston.