PTSA
Whitman Middle School PTSA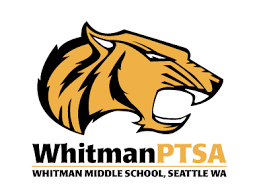 Welcome to Whitman from the Parent Teacher Student Association (PTSA)! Our PTSA is a 501(c)(3) organization that supports Whitman's students, families, and staff. We are here to make sure you have the opportunity to stay connected to your student's middle school experience.
Many research studies have shown that when parents/guardians are involved in their child's education, these students achieve more regardless of socio-economic status/ethnic background or even their own parent's education level.
Annual Giving Campaign
A huge THANK YOU to our Wildcat community for supporting the 2021 Annual Giving Campaign in a big way!
Not Too Late To Donate
Stay Informed and Get Involved
Middle school students begin to develop a sense of self and independence that is separate from their families, making parents and guardians unsure how much to be involved or how to be involved. We have many opportunities to help parents stay connected and aware.
Sign Up for the Whitman PTSA Newsletter – Text: WHITMAN to 42828 to receive our weekly emailed newsletter.
Attend a meeting – Refer to the Meeting Dates and how to join the virtual meetings below.
Become a member of the PTSA – Learn more about membership and discounts here.
Volunteer! Learn about opportunities on our Volunteer Page.
Join the PTSA Whitman Facebook – Search for Whitman Middle School PTSA
Help with Fundraising and have some fun – visit our Whitman Fundraising page to learn more, and get started by reviewing all of our "passive fundraising" opportunities that channel donations from businesses in our community to Whitman.
Join the PTSA Board or a Committee
If you would like more information, please contact our PTSA President, Erika Goodmanson, at whitmanptsapresident@gmail.com
---
PTSA General Meetings
Special Session!
Dec 14, 2021 | Special Session: 8pm Levy Vote
PTSA Board Meetings | 6:30pm
Board Members: Please join us at monthly PTSA Board Meetings held at 6:30pm (unless otherwise noted) via the Zoom Link below. Everyone is welcome at the General Meetings when scheduled (use the same Zoom link below).
Dec 14, 2021
Jan 11, 2022
Feb 8, 2022
Mar 8, 2022
Apr 12, 2022
May 10, 2022
Jun 14, 2022
Meeting ID: 830 8523 2272
Passcode: 709978
One tap mobile
+12532158782,,83085232272#,,,,*709978# US (Tacoma)
Dial by your location
+1 253 215 8782 US (Tacoma)
Meeting ID: 830 8523 2272
Passcode: 709978 | Find your local number