PTSA
Whitman Middle School PTSA
WMS Parent Teacher Student Association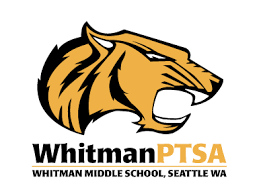 The Parent Teacher Student Association (PTSA) is a 501(c)(3) organization that supports Whitman's students, families, and staff. We are here to make sure you have the opportunity to stay connected to your student's middle school experience. Many research studies have shown that when parents/guardians are involved in their child's education, these students achieve more regardless of socio-economic status/ethnic background or even their own parent's education level and we look forward to the new School Year!
Announcements
The Whitman PTSA Board Needs You
The currently elected 6th Grade BLT member is unable to attend the scheduled Building Leadership Team (BLT) meetings – occurring on the first Monday of the month at 4-5 p.m. at WMS. In the interest of having 6th grade well-represented in BLT, we are now accepting self-nominations for the role and would like to announce and vote on this position soon. To find out more about this role, please contact Jan at whitmanptsapresident@gmail.com.
The Board could also use a volunteer for Social Media content and a Technical lead to help us keep up with the changing digital needs of our nonprofit. We are happy to work with you to develop these roles and work collaboratively with each other to make decisions, so you won't be left on your own. If you are interested in helping us with either of these positions, please contact Jan at whitmanptsapresident@gmail.com.
Spirit Wear Orders Have Arrived!
Orders are available for pickup by your student at the ASB Pride Store. The orders will be available under your name, but if possible please email me the name of your student(s) and their grade(s) to aid with pickup. Thanks! Matthew Dresden at matthew.dresden@gmail.com Whitman PTSA Spirit Wear Lead 2023-24.
WMS PTSA Board & General Meetings
PTSA Board Meetings
The WMS PTSA Board meets every 2nd Tuesday of the month at 7 p.m. unless otherwise noted and promoted.
PTSA General Meetings
If you would like more information and links to the virtual meetings, please contact the WMS PTSA Secretary at WhitmanPTSASecretary@gmail.com
WMS PTSA President Welcome 23-24!
Dear Students and Families: On behalf of your Whitman Middle School Parent-Teacher-Student Association (WMS PTSA), I am happy to welcome you to the 2023-24 school year at Whitman. The new WMS PTSA Board is honored to serve our incredible student body, dedicated teachers, and supportive parents. WMS PTSA works closely with the school administration and staff as well as the Associated Student Body (ASB) and Whitman families to promote a vibrant and enriching school community and a place where everyone feels a sense of belonging. We want to encourage you to be actively involved at Whitman. Volunteer your time and skills to benefit our Whitman community! We can make a significant impact and create a school environment that truly reflects the needs and aspirations of our student body if we act together.
I assure you that our Whitman PTSA team is committed to supporting you every step of the way. If you have any questions, concerns, or ideas, please do not hesitate to reach out to us. We are here to listen, advocate, and collaborate to ensure your experience at Whitman Middle School is a healthy and happy one! I hope you all have a rewarding and fun 2023-24 school year. Let's work together to create a vibrant and inclusive community where every student can thrive. Let's go Wildcats! Jan Johnson, WMS PTSA President; whitmanptsapresident@gmail.com
---
Join the PTSA Board, Become a Member and/or Volunteer!
We Need You On the PTSA For for 2023 – 2024!
WMS PTSA Board Roles
Advocacy Liaison
Events Co-Lead
Communications/Social Media Co-Lead
Nomination Committee (Requires 3 people)
Please contact Jan Johnson at WhitmanPTSAPresident@gmail.com and let me know what role you're interested in, or we can talk about your strengths and find a good fit for you.
Become a Member of the PTSA
Please take this opportunity to join our group of motivated parents and teachers with one goal in mind—helping to create the best school experience possible for all Whitman students. Membership in the Whitman PTSA benefits your child, their school community, and you!
Volunteer Opportunities
We are always looking for new volunteers. You can find volunteer opportunities on our Volunteer and Current Volunteer Opportunities pages.
---
Stay Informed and Get Involved
WMS PTSA Weekly Newsletter
Get connected and stay informed of school events and activities is to sign up and read the Whitman Weekly PTSA Newsletter! The newsletter is emailed to subscribed families on Thursdays of each week. If you have any questions or have news to share please email the PTSA Newsletter Volunteer Jennifer Wilcox at whitmanptsanews@gmail.com. Read current and previous editions on the PTSA Newsletter Archive.
You don't have to be a PTSA membership to sign up, so sign-up today and get your email added to the Whitman weekly newsletter mailing list.
---
School Year 22-23 Resources