Friends of Whitman Music
Friends of Whitman Music (FOWM)

Whitman's support group is called "The Friends of Whitman Music (FOWM)" and they can be contacted through the Friends of Whitman Music Website. Friends of Whitman Music (FOWM) is a group of families and friends who advocate, volunteer, and raise funds for our Music Programs. We work with Ms. Gunn to support all music programs. All are welcome to attend and support Whitman musicians.
FOWM is comprised of parents, guardians, and community members who are committed to supporting music education for all Whitman students.
---
Announcements
Wreath & Decor Fundraiser
The easiest way to help our music program is to buy something you already want through this fundraising drive! You want some winter decorations for your home, and we need the 15% that comes back to the ASB Music Fund that helps provide our music department with funds for extracurricular events like competitions, bussing for students and instruments, and more!
Purchase beautiful fresh wreaths and other decor from Lynch Creek Farm. Proceeds support our Whitman music program. Items can be ordered for immediate delivery or pre-ordered for the winter season, and can be shipped nationwide. To order, visit lynch creek fundraising. Share with your friends and neighbors who want to support music in schools! Thank you!
Outstanding Educator Award
The Outstanding Educator Award is presented to an individual who has made significant contributions in their community to enhance the educational outcomes of all children or youth. We received nominations for a handful of teachers at Whitman, which isn't surprising because we have so many amazing teachers. But this person received several nominations – our Outstanding Educator for 22-23 was Melanie Gunn. Ms. Gunn has been a tireless advocate for the music program and music students at Whitman over the course of the past year. She has worked to help her students shine, keep parents informed and supportive, and celebrate music. She has raised her voice during difficult moments at Whitman, and celebrated joyfully when her students have themselves worked hard.
Her concerts are a joy to attend, and her love for her role and Whitman's students is evident in everything she does! As one student said, "Ms. Gunn is an amazing music teacher always checking in on students if they need help from her. She is always finding fun ways to teach us new skills in music, whether it's creating and presenting your own music or having student input on what songs we should play for our concerts. She's very nice, fun and sings great."
FOWM Website
Visit the FOWM website for current updates and meeting information.
---
FOWM Meetings
The FOWM planning team meets remotely on the 2nd Wednesday of every month at 6 p.m. to discuss activities for the Whitman Music Program.
All parents/guardians are welcome to join us! For a meeting link or any information at all please send us an email at friendsofwhitmanmiddlemusic@gmail.com
---
Previous Events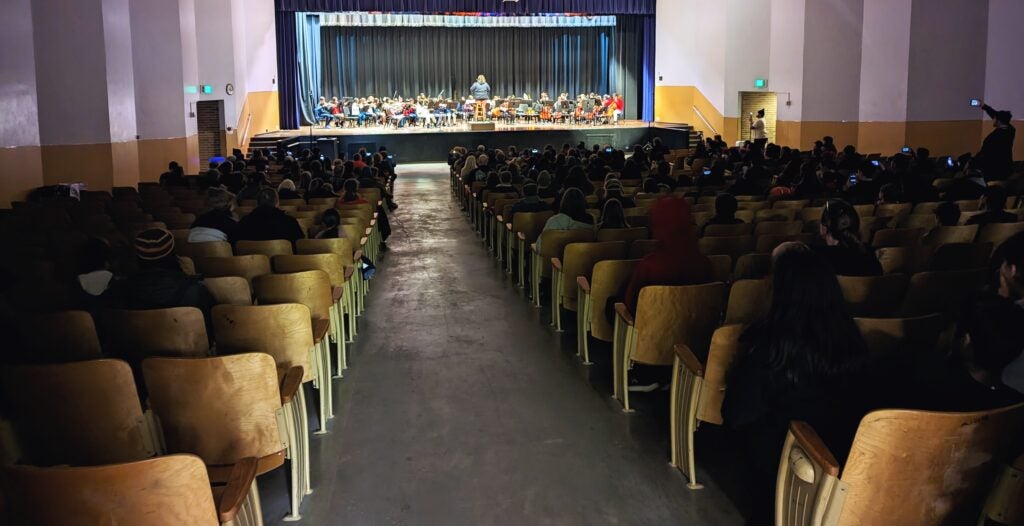 Ms. Gunn and the Whitman Music Program hosted about sixty-five (65!) 5th Grade Musicians from our feeder elementary schools for an Elementary Instrumental Music (EIM) Day.
These students practiced how to work on their specific parts in small groups and then come together on our stage to play as a complete Band or Orchestra! We saw a lot of smiling students and proud parents this weekend! Way to go Ms. Gunn! Congrats to our WMS Music Student Volunteers!
---
Jazz Band Remind Text
Please join our Remind text service if you haven't yet. We only have about half of people signed up. This is used for time-sensitive announcements such as morning-of cancellations of Jazz Band. It is imperative that we have 100% of families signed up for this service.
Remind for Jazz Band
We use Remind to send out updates and last minute news for the Jazz Band.
---
Music Overview
Open to Grades: 6, 7 & 8. The music program is a big part of Whitman. Students can take band or orchestra as a full-year elective. Music classes are open to beginners as well as experienced students.
Play some of your favorite music and learn some new types of music! Some examples of things we've played this year are..

Theme from Mission Impossible
Raider's March
"We Don't Talk About Bruno" from Encanto
Music from the genres of Jazz, Fiddle, Pop, and music from other countries!

Orchestra

Violin, Viola, Cello, Upright Bass

Band Instruments

Flute, Clarinet, Oboe, Bassoon, Saxophone, Trumpet, Trombone, Baritone, Tuba, Percussion

Percussion students are required to learn both mallets and drums
Saxophone and Percussion students are required to. have at least one year of experience on another instrument