Library
Whitman Middle School Library
Welcome to the Whitman MS Library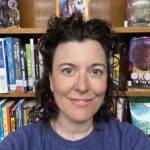 Our program aims to build curious, ethical readers, thinkers, and makers. We have a robust, recent collection of over 12,000 books in over 20 genres – organized just like your local bookstore. Sarah Johnson, our librarian, is an experienced educator and school librarian. She has worked in large, comprehensive high schools, Black Excellence schools, IB schools, and schools that center multilingual learners. Besides facilitating growth and exploration in reading, she also plans and delivers instruction in digital citizenship, research techniques, source evaluation, citing, and more.
---
Wildcats Read 2023-2024
These books will be highlighted all year long at Whitman. Featured books have diverse topics, BIPoC authors and protagonists, meaningful messages along with great entertainment. These books are meant to be mirrors and windows, help us build empathy & make sense of the world. Age & grade recommendations are only a starting point, please monitor if a book is just right for you. Some titles have audio, e-book or large print versions as well – just ask!
---
How to Find Your Next Great Read
Our catalog
The method below is best to automatically sign you in.
E-books, audiobooks, always ready graphic novels, manga and comics
Every student has a digital Seattle Public Library account through Seattle Public Schools. Popular collections are housed on the apps/websites Sora, Libby and Hoopla. Check out the video below for quick access, or read in detail about options.
If you liked….Readalike suggestions for families
Search our library catalog Destiny Discover or get advice from these great websites:
Novelist is another great resource that offers readalike suggestions.
Novelist Login information:
Username: studentsps
Novelist password: access24!
---
Museum and Outdoor Recreation Passes
Add to your weekend fun by getting FREE passes to local museums. Did you know you can also check out Discovery Passes for free through the library? Visit the Seattle Public Library website, specifically the Museum Pass and Outdoor Recreation pages.