Music Program
Whitman MS Music Program
The Whitman Music Program is a comprehensive, award-winning program that is designed to prepare students to succeed in high school level ensembles. The program has two jazz bands, three concert bands, two string orchestras, and an after school drumline. Roughly one-third of Whitman's population is an a musical ensemble. Whitman's top ensembles consistently receive "Superior" ratings and "Best Overall" distinctions at regional festivals and competitions.
Whitman Music Instructor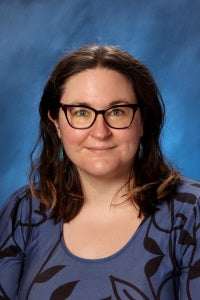 We are proud to have an accomplished music educator inspiring students in our Band and Orchestra ensembles.
Ms. Melanie Gunn:
Music Director for Band and Orchestra
Prior to her tenure at Whitman Middle School, Ms. (Voytovich) Gunn worked primarily at Broadview Thomson as their band and orchestra teacher, but also taught elementary instrumental music at Whittier, Daniel Bagley, and Stevens Elementary schools.
She is an active percussionist who grew up in Buffalo, New York. She holds a bachelor's degree in music education with a focus on instrumental music from the Hartt School of Music in Hartford, Connecticut, a master's degree in percussion performance from SUNY Buffalo, and is a candidate for her doctorate at the University of Washington in percussion performance.
In 2014, she founded the New Works Project, where she serves as executive director. New Works Project helps musicians participate in affordable commissions of new music. She likes the Portland Trailblazers, reading, video and board games, and of course, making music.
Ms. Gunn can be reached at email magunn@seattleschools.org Refer to the FOWM website for current updates.
---
Music
Open to 6th, 7th and 8th graders. The music program is a big part of Whitman. Students can take band or orchestra as a full-year elective. Music classes are open to beginners as well as experienced students.
Play some of your favorite music and learn some new types of music! Some examples of things we've played this year are..

Theme from Mission Impossible
Raider's March
"We Don't Talk About Bruno" from Encanto
Music from the genres of Jazz, Fiddle, Pop, and music from other countries!

Orchestra

Violin, Viola, Cello, Upright Bass

Band Instruments

Flute, Clarinet, Oboe, Bassoon, Saxophone, Trumpet, Trombone, Baritone, Tuba, Percussion

Percussion students are required to learn both mallets and drums
Saxophone and Percussion students are required to. have at least one year of experience on another instrument
---
Friends of Whitman Music (FOWM)
Whitman's support group is called "The Friends of Whitman Music" and they can be contacted through the Friends of Whitman Music Website.
Visit the FOWM website for current updates and meeting information.